A Moment of Reflection
I was so busy last year! Below are pictures from all of the things that I did last year this time. This year I have been busy working at my schools and the YMCA , but it has been a different kind of year. I had a "partner in crime" in the Therapy Dog World and she went to heaven last month. She was my Grandma and her name was Georgia. I feel this post needs to sing the praises of an awesome mentor. You see, Georgia had cancer.  She underwent a very big surgery to remove her spleen because of a huge mass and during surgery, bladder cancer was discovered. My Humans teamed up with Dr. K and Dr, J and Jen, and Georgia had various chemotherapy treatments. To help Georgia keep her mind off of feeling yuky, mom gave her a job, and Georgia became a therapy dog too. She and I went with my human mom to church for bible school, and she went to the University Mary Washington campus on occasion and she would go with me and mom to visit our human grandma. Georgia never, ever complained. When she was happy she would do this really cute happy dance, and when she couldn't hardly walk anymore she was content to ride in a wagon. Georgia had a way of making all of us feel special and she is sorely missed. I love you Georgia!!! Thank you for looking out for all of us, especially Zoey!
Happy Day! Summer is ahead!!!!!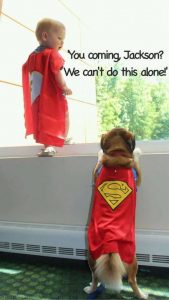 Finn is my buddy…check out his story by searching Prayers for Finn on Facebook.
Above, I got to help my friend Allison with her Focus project
Above, I worked at the health fair prior to the MCM historic half marathon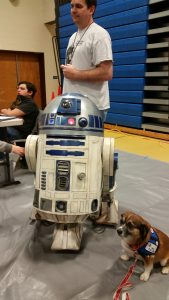 I got to meet R2D2 at the NOVA Maker Fair!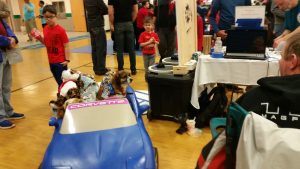 Got to drive my car too!!!!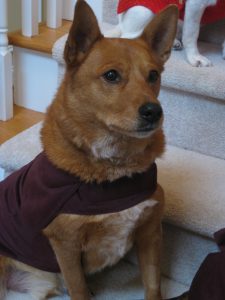 Jimi  (above)
Driving my car in Fredericksburg, Virginia (below)
Remember…..Summer is approaching.  Read a new book every week! and play out side. Go Swimming, go boating, go biking, go hiking!
Jackson's Top Ten Places he likes to go and things to do:
10. Meeting Dr. Katy of The Pet Show! (This is a link to my interview with Dr. Katy)

9. Driving in Fredericksburg

8. Helping my sister, T and going to Richmond's special vet with Georgia

7. Hanging out at the Elite Academy

6. Being best friends with Mr. Peabody. He has adjusted well.

5. Driving to New Mexico to hang out with my Aunt and cousins……we got to meet Jimmy Don of Fixer Upper at Magnolia Farms, and I got to go to an alien museum!
4. Driving

3. Hanging out with mom and grandmas and grandpas

2. Hanging out at the YMCA and helping to teach about water

1. Helping my friend Finn and playing super man
MAKE A DIFFERENCE!  I know you can.
Send Jackson an email (< click on words)