HAPPY SPRING!!!!! (I hope)
Welcome to spring and hopefully warmer weather.  I have been very busy lately driving my car and hanging out with pre schoolers at our local YMCA teaching them about water safety.  Life have been exciting! I got to go to the NOVA Maker fair….last weekend and I got to drive my car.  I learned how to solder  wires and I learned about drones….they are amazing! There are soooo many things I want to learn about.  A whole new world has opened since my human discovered I could spell, she is always "stretching" my mind…..it is very fun.  Have a great day!  Exercise, get outside, take your human for a walk, read a good book, enjoy life!  It is precious and short!!!!!!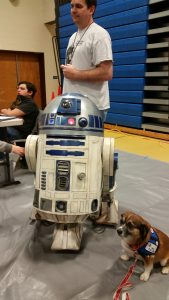 I got to meet R2D2 at the NOVA Maker Fair!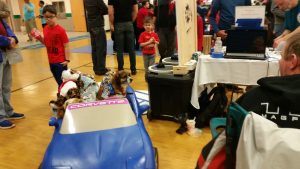 Got to drive my car too!!!!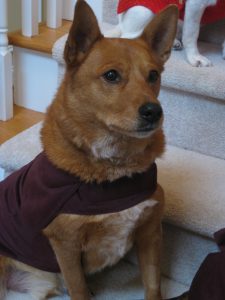 Jimi  (above)
Driving my car in Fredericksburg, Virginia (below)
Jackson's Top Ten Places he likes to go and things to do:
10. Meeting Dr. Katy of The Pet Show! (This is a link to my interview with Dr. Katy)

9. Driving in Fredericksburg

8. Helping my sister, T and going to Richmond's special vet with Georgia

7. Hanging out at the Elite Academy

6. Helping a new foster named Mr. Peabody adjust to our family

5. Driving to New Mexico to hang out with my Aunt and cousins……we got to meet Jimmy Don of Fixer Upper at Magnolia Farms, and I got to go to an alien museum!
4. Driving

3. Hanging out with Tommy…..the relationship is a work in progress….he's doing well

2. Hanging out at the YMCA and helping to teach about water

1. Maker Fair in Northern Virginia with Fred Works Peeps
MAKE A DIFFERENCE!  I know you can.