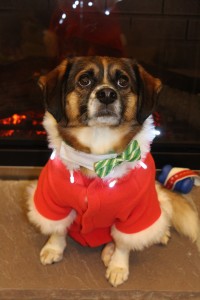 Merry Christmas!!!!!!
What a fun time of year.  I know it can be very stressful, with work, and shopping and trying to meet expectations of the family and friends.  We pets feel the stress and sometimes act weird and demanding….be patient with us.  If you are feeling really stressed or sad or confused, take your best friend for a quiet walk at night and just look up at the stars, or go to a park and take a short walk, or cuddle under a blanket and watch A Charlie Brown's Christmas.
This holiday will be hard on my family cuz we lost my brother in October, and he was in charge of all of us.  We still do not really have any direction.  I also want a moment of silence for Ollie…another friend lost this past week and Diesel, a fellow therapy dog friend. They are all play in heaven and watching their families as angels.  I am grateful for all of my friends, human and furry, and really grateful for the wonderful life I have!!!!!!!!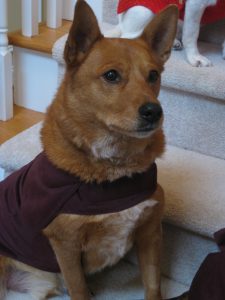 Jimi…..he was an Australian Cattle Dog mix. He was my older brother.  He welcomed all of us with open arms.  My parents foster dogs and cats and he never treated any of us badly, welcomed us without a thought.  He was a great "police" dog, keeping us safe always and reassuring us when we would get scared; especially during thunder storms and earth quakes or whatever would scare us.  He passed away while my mom and I were driving back from New Mexico. He is missed!
On a funner note….here is my beautiful blue car, it is done! I've taken it driving at Fredericksburg Academy, in parking lots and downtown. I even drove it in the Fredericksburg parade, and didn't do so bad.  You can view my driving skills on Instagram….just look for Jacksonreads.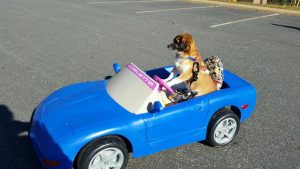 Jackson's Top Ten Places he likes to go and things to do:
10. Reading

9. Driving in Fredericksburg

8. Helping my sister, T and going to Richmond's special vet with Georgia

7. Hanging out at the Elite Academy

6. Hanging out at the Y

5. Driving to New Mexico to hang out with my Aunt and cousins……we got to meet Jimmy Don of Fixer Upper at Magnolia Farms, and I got to go to an alien museum!
4. Driving

3. Hanging out with Tommy…..the relationship is a work in progress

2.Meeting Dr. Katy of The Pet Show!

1. Did I mention I like to drive?
MAKE A DIFFERENCE!  I know you can.