Happy Day!  Summer is ahead!!!!
My human mom and I have been really busy.  She ran the Marine Corp Historic Half Marathon in May and I helped her to raise money for my buddy Finn and for my alma mater rescue, the Pet Assistance League.  We became super heros for a day!  Then I attended a health fair to advertise our Therapy dog group, Blue Gray Therapy Dogs and right after that I helped out at one of my library's Comic Book conventions.  Then, I got to be part of a display for my friend Allison.  She did a focus project, researching the difference between Therapy dogs and Service dogs.  Us Therapy dogs work with our human counter part to help many people.  Service dogs assist their one human…..and other service dogs assist the police and other professionals with law enforcement and search and rescue and all sorts of jobs.  I love my job, working with kids teaching them to read and gain confidence within themselves to learn more.
Below are photos of all of my activities for the last 3 months: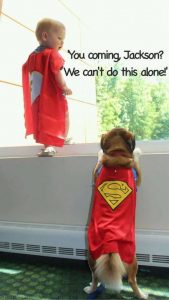 Finn is my buddy…check out his story by searching Prayers for Finn on Facebook.
Above, I got to help my friend Allison with her Focus project
Above, I worked at the health fair prior to the MCM historic half marathon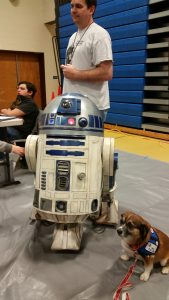 I got to meet R2D2 at the NOVA Maker Fair!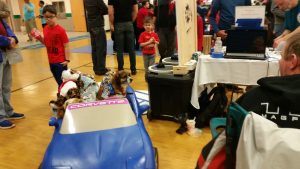 Got to drive my car too!!!!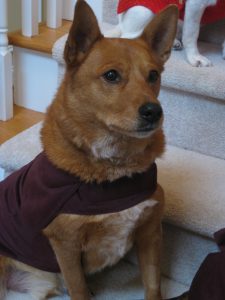 Jimi  (above)
Driving my car in Fredericksburg, Virginia (below)
Remember…..Summer is approaching.  REad a new book every week! and play out side. Go Swimming, go boating, go biking, go hiking!
Jackson's Top Ten Places he likes to go and things to do:
10. Meeting Dr. Katy of The Pet Show! (This is a link to my interview with Dr. Katy)

9. Driving in Fredericksburg

8. Helping my sister, T and going to Richmond's special vet with Georgia

7. Hanging out at the Elite Academy

6. Helping a new foster named Mr. Peabody adjust to our family

5. Driving to New Mexico to hang out with my Aunt and cousins……we got to meet Jimmy Don of Fixer Upper at Magnolia Farms, and I got to go to an alien museum!
4. Driving

3. Hanging out with Tommy…..the relationship is a work in progress….he's doing well

2. Hanging out at the YMCA and helping to teach about water

1. Helping my friend Finn and playing super man
MAKE A DIFFERENCE!  I know you can.
Send Jackson an email (< click on words)