Meet Jackson
There are dogs and cats in this world that need homes.  These once upon a time pets  lived in  homes with heat and food and  a comfortable place to sleep. There are many reasons pets end up in shelters.  There was a shelter in West Virginia that had too many dogs and puppies and they could not take care of them all, so a plea went out for anyone who could help to come and take some of the dogs and puppies away.
Special people heard the pleas of the pets and sent a rescue wagon to save them. Ten puppies got saved by the Pet Assistance League. (P.A.L.)  The puppies were sick and hungry and many had very itchy, scabby skin. There was one special puppy that caught the eye of Mr. Dave.  He took the puppy home to take care of him.  Mr. Dave named the puppy Jackson.
 Mrs. Dave thought Jackson was adorable and agreed  to foster Jackson until they could find the right family for him. Mr. and Mrs. Dave had many animals in their household.  All of them had been rescued from different places. They had nine cats and three dogs.  Jackson was scared at first.  He was afraid the other pets would not like him, and he would not fit in.  Mrs. Dave held him tight and carefully introduced him to everyone.                       
Jackson got his own bowl for food and his own bedroom.  He got a special toy and his own collar and leash.  The first few days were quickly forgotten.  Jackson was so tired and he felt horrible.  Jackson slept most of the time.  Soon the special medicine to make him better started to work. In the mornings Mrs. Jackson walked Jackson down the driveway to get the paper and every evening Lyra gave Jackson a bath.  Jackson learned how to stay, sit and come.  His favorite trick was crawling and it made Mrs. Dave laugh.
Jimi was the dog in charge. Jimi was the family police dog and he scared Jackson the most.  Lyra was a beagle and she loved Jackson the most and Zoey was prissy and a little jealous because now she was not the baby any more.  Everyone said hi to Jackson and then left him alone.  He felt a little better about his new temporary family.
 Mrs. Dave loved Jackson very much.  Jimi, Zoey and Lyra loved Jackson very much.  They all asked Mr. Dave if they could adopt Jackson into the family.
Mr. Dave was fond of Jackson too and decided to him a part of the family.  He brought home adoption papers to be filled out.  Mr. and Mrs. Dave filled them out together.  A week later a certificate arrived in the mail along with an I.D. tag for Jackson to wear.
Jackson  was an official member of the family and this made everyone happy.  What a lucky dog! Jackson had found the right family.
#2 – Jackson Travels to New York to Play Football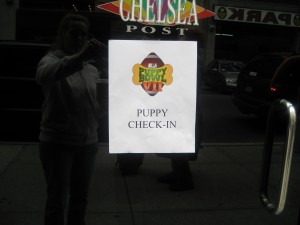 When Jackson was very little, before Mr. and Mrs. Dave adopted him they fostered him.  Mrs. Dave thought Jackson was adorable and she submitted his picture to Animal Planet's Puppy Bowl producer.  They were looking for puppies to participate in Puppy Bowl #7.  Mr. and Mrs. Dave were very surprised when they received a letter stating Jackson had been picked.  Forty puppies were picked from thousands of pictures all over the country.
Jackson was eleven weeks old in October when Mrs. Dave drove Jackson to Philadelphia the day before the filming was to take place.  They spent the night with Kyle, Mrs. Dave's son.  The next morning they got up very early, and Kyle accompanied Jackson and Mrs. Dave to New York City on the commuter train.  He knew where they had to go and took them to Chelsea Studios.
At the studio, Jackson made friends with the referee and puppies in his group, Patch, Brownie Sunday and Thirteen.  He had fun playing with toys on the football field, crawling across the end zone and playing in the water bowl.  It was a long day, and when they were finished Kyle took Jackson and Mrs. Dave to get pizza at Times Square.  Jackson was amazed how big the city was.  He got to see Times Square and a dinosaur in Toys R Us!
At the end of the day, they got back on the commuter train and went back to Philadelphia.  What a day! What an adventure!!!!  The beginning of many adventures!!!!!!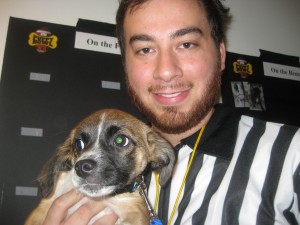 Jackson and the referee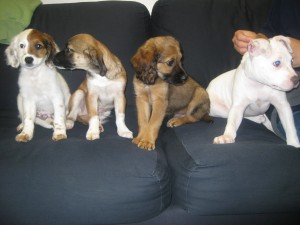 Patch, Jackson, Brownie Sunday, Thirteen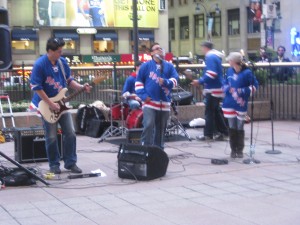 Watching a concert at Madison Square Gardens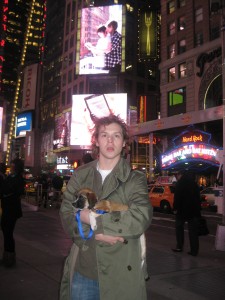 Kyle with Jackson at Times Square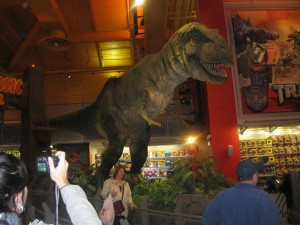 A dinosaur at Toys R Us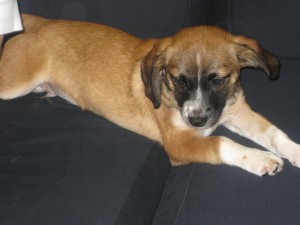 A very tired Jackson
#3 – Jackson Trains for a New Job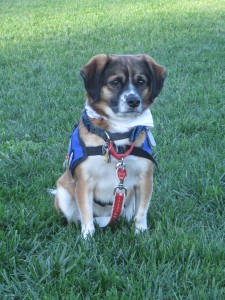 My name is Jackson. I was saved by the Pet Assistance League and fostered by Mr.Dave and Ms. Dave. When I was little I got to be apart of the Puppy Bowl. Shortly after coming home my foster mom asked Mr. Dave if they could adopt me, and he said yes! My new mom decided I would be very good at a "job", so she took me to school every week for several months.  I learned to sit and stay and walk on a leash. I learned to leave things alone and listen to her. I was tested for the Canine Good Citizen test and passed!
My mom decided I was ready for Therapy Dogdom, so she and I tested to see if we would make a good working pair.  We went to a different pet store and had to pass another test.  Then we hung out at Mary Washington hospital.  That was a long morning.  I had a 3 year continually pull my ears and tail. I finally decided that hiding under TJ, a very big grey hound was safer than this 3 year old.  The next evaluation was at a nursing home.  I passed all three stages!  But what was my job going to be?
I worked at Greenfields of Fredericksburg about once a week, and it was ok, but my mom had other ideas. She knew I was smart and absorbed knowledge like a sponge, so she started to read to me.Then we took a special class that trained me to sit a read with children. Now, I had an idea where this was going…I was going to be a reading dog!
I love stories and pictures and I love being read to. So my first place of employment was 2 libraries, then I got to work at Dixon Smith middle school.  The following year I added a special school called Elite Academy and my third year we started going to the YMCA after school.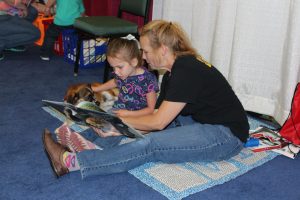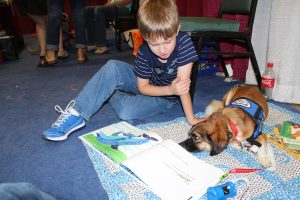 FInally I have a job! I get to hang out with kids and learn stuff at the same time.  To date I have probably read several thousand books! My mom has taught me the alphabet and how to spell, read words and do math!!! I love learning; learning takes you places.  Whoever discovered the alphabet is my hero!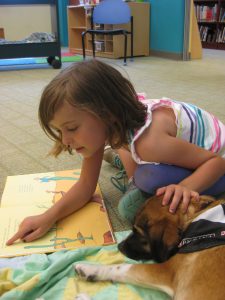 #4 –  Jackson's Vacation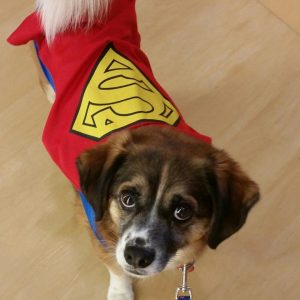 Jackson is a mild mannered dog by day. He is just your average therapy dog, reading, spelling and doing math with his favorite besties every week. Anyone looking at him would never guess that he has a secret life as a super hero dog.  Every day Jackson scans the world for people that need saving.  His house associates appear to be every day ordinary cats and dogs, but as soon as the humans leave for work, everyone jumps into action turning on high tech equipment and checking the air waves for cries of help.                             
(Associates: Agents Luna, Georgia and Tanisha on the left and Lyra on the right)
     Scout and Baylee monitor the backyard and woods. Lyra stands guard on the deck.  Tanisha, a blind beagle, senses when things aren't right and sends messages to Jackson through mental telepathy. Georgia, appears to everyone else, to be sickly and quiet. But Georgia is Jackson's communication expert.  Each of her howls has a different secret message that Jackson can interpret.
     Mr. Peabody came to the house under the disguise of a foster, but his real identity is special agent Peabody; with a gift of sniffing out the bad guys; especially fake cats.
     The day came when Mrs. Dave, Jackson's human mom started talking about a vacation.  Jackson always liked getting away for a couple of days, but this time was going to be different.  Jackson over -heard his humans talking about being gone for a week.  Oh no, how would Jackson take care of the world if he was away from his base camp for a week?  Plans had to be made, but how and what and who?
     Jackson decided to put his sisters Zoey and Lyra in charge, and told Mr. Peabody to keep his ears open for anything out of the ordinary. With that, Jackson left for North Carolina, taking Georgis and Tanisha with him.  He figured, if anything went wrong, Tanisha would be able to silently inform him of what was going on, and Georgia would be able to run the distractions if needed.
     The first couple of days were relaxing, but within a few days, Jackson was bored.  After all he was at his grandparents' house, what was he to do? Babysit? Yes…he did that a lot!
He wanted to get a message out to his home base to make sure everything was safe and good, but how could he do this?  He seemed to be stuck either inside grandma's house or in the back yard….he needed to get "out".  On the fourth day, he got lucky, Jackson got to go a little further riding in Georgia's wagon, but it wasn't enough.
     Then Jackson got a brilliant idea. He would contact special agent Finn via Facebook! On the outside, Finn appears to be your average 2 year old. He was born with CHD and in his short life he has had to learn how to read, write and speak very early.
  Jackson would "message" Finn for an update report; he just needed a moment alone with his human's phone.  Opportunity always came in the morning, while eating breakfast, so on Wednesday, the message was sent…"Finn…how r u? how r things"?
     Jackson waited for an answer, nothing. Sad that his plan failed, Jackson started to devise plan B.  This time it meant meeting with special agents in a public place.  This could be tricky.  He got the local barking chain on it and found 2 agents willing to meet him at Dream Chasers that afternoon. Jackson put his acting cap on and pretended to be really bored and depressed.  His human decided he needed a field trip.  Jackson couldn't wait to get out of the house. He ran to the car.  They went walking around Waxhaw and met a few locals.  He pulled his human towards Dream Chasers.  There was a dog there named Nala. She filled him in on everything then the agents showed up.
     The meeting went well, and while his human left the table for a moment, a message came through from Finn. Special agent Grand Pa read it to Jackson. Jackson could read it for himself, but he kept this gift a secret even from his fellow agents.  This is what Finn had to say: "Help! Kids r finishing school and u r not here.  They r playing too many video games. They have forgotten to read books and play outside. What r we going to do?!"
This was a problem. What was Jackson going to do?
     Back at his grandparent's house, Jackson took a look at his human's emails.  Teachers were emailing her with inquiries…when could she bring Jackson? The kids missed him!  Jackson was getting anxious.  His human sensed his anxiousness and took him for more walks.
  She let him stay outside more.  Time for him to break his silence.  Thursday morning he let off one bark to start the barking chain of communication.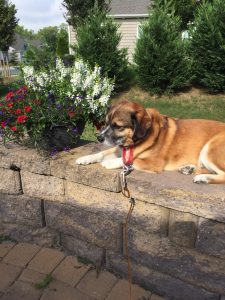 Word got to Nala and Jimi and Colby (of NC) and Buster, and the bark resonated through North Carolina and into Virginia.  Eventually word got to his therapy dog friends and all the way to his house.                      
     Zoey, Peabody and Lyra had a meeting. Zoey always appeared to be the 'diva' of the group, but she was actually pretty smart. Her suggestion….employ all of the PAWS dogs to check in with their humans this last week of school. Educate them on the importance of reading 1 to 3 books this summer minimum and catching fireflies at night; swim or bike during the day and eat healthy. Peabody added an email link to Jackson's secret website hoping the kids will report to him on their activity. 
     Pierre, one of Jackson's reading buddies thought it was a brilliant idea and said he would help.  Soon the word got out and even household pups were watching their human children to make sure they stayed on track!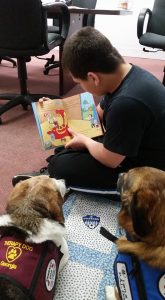 Jackson breathed a sigh of relief and was thankful that all of his friends were willing to help! 
Remember….Read at least one book a month! Play outside! Exercise and eat healthy!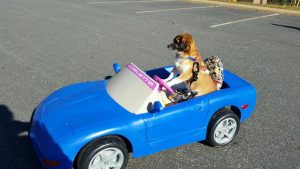 And let me know what you are doing!!!!! I'll miss you!!!! Happy summer!  If you visit my human's store, check to see if I am there and say "hi"…..
Love,
Jackson